Professional Smart CO2-Detector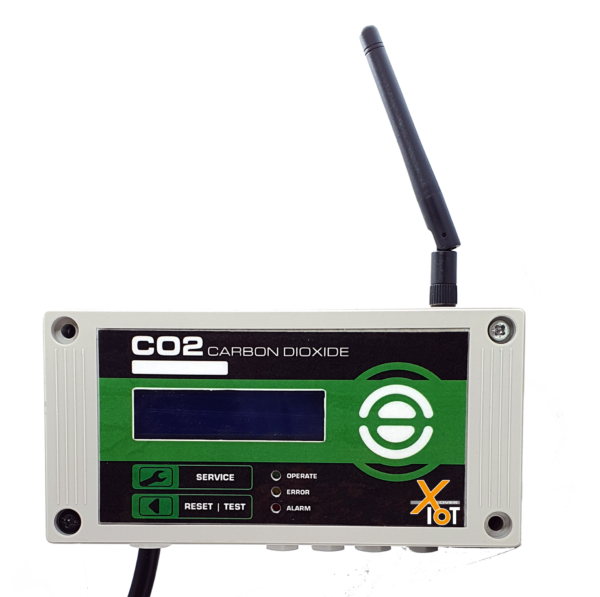 Industrial grade continuous monitoring of CO2 concentration in ambient air
NDIR based CO2 Sensor
Local 2 x 16-character display of current CO2 Level on the base detector, and a LED and an acoustic alarm, if CO2 thresholds are passed. Standard measurement CO2 range 0-5000ppm.
Sensor data of the smart detector are transmitted to the Sigfox cloud, or to our partner cloud via LoRaWAN or via proprietary sub-GHz protocol. A further cloud service for data processing and data management is offered by XoverIoT on demand. The CO2 detector includes a XoverIoT Module SIGFOX-MOD1-E, certified as "Sigfox verified" or a SUBGHZ-MOD1-E for subGHz or a LoRaWAN module.
2 potential free (HV/LV) 5A relay contacts are available to interface with other home equipment directly (e.g. ventilator or window opener) or with building control systems. Visual and acoustic alarms happen locally, remote alarm by the cloud service.
Modification of system to user demands possible.
Key features of the smart CO2 detector
Sensing CO2 concentration in indoor environment (IP20) with illuminated text display to indicate customizable thresholds, e.g. > 1500 ppm for a pre-warning message and acoustic signal and > 2500 ppm activating relays in order e.g. to give alarm, to prohibit access or to start forced ventilation.
LoRaWAN, proprietary subGHz (868 MHz), or Sigfox communication with control or monitoring service (direct or via cloud) for multiple rooms in buildings
External sensor allows optimal mounting
Operating conditions: + 5°C .. +45°C, 10 .. 90% humidity (non condensing)
CO2 concentration: 400 .. 5000 ppm ( extended range up to 50000ppm availiable )
Applications:

CO2 Alarm for reaching hazardous thresholds
Facility management, e.g. meeting-rooms, offices, schools
Safety at work, e.g. factory floor, cooling houses, storage rooms for drink container pressurized with CO2
Operating voltage: 100 – 240 V~ AC / 10VA / 50-60 Hz
2 Potential free relays

Relay 1: max. 10 VA
Relay 2: 60 V= DC / 5 A max.

Piezo alarm device with sound pressure about 85dB(A) @ 1 m
Programmed alarm levels:

400 – 800 ppm: good air quality
>1500 ppm: pre-alarm
>2500 ppm: main alarm

CO2 Sensor: NDIR (optical)
IP20 for dry indoor use
Dimensions:

H x W x T: 80 x 160 x 55 mm
External sensor H x W x T: 52 x 27 x 29 mm
Sensor cable: 2,5 m – 3×0,14mm² – white – Ø3,5mm
Acoustic and optical warning signal
Relay for automatic ventilation systems
Second Relay for giving alarm to facility management systems
Real text display with explanation of the alarm level
Various threshold may be set ( medical, industrial, school, custom )
Smart cloud technology available on demand
Simultaneous monitoring in rooms of the building
Central control of CO2 concentration
Alarm on mobile device or building control system, if thresholds are reached
Documentation of daily status
No WLAN necessary
Simple setup ( just mount and go )
LoRaWAN, or SubGHz instead of Sigfox ( WLAN optional )
Customized range of CO2 concentration up to 50000 ppm and cusomized thresholds

Adjustable transmission-rate and transmission triggering ( adjustable sending schedule, on value change, on alarm )
Optional additional sensors, e.g. atmospheric pressure
Remote control of acoustic signal ( e.g. silent mode )
Remote CO2 sensor
Different housings, e.g. for OEM products
Simple setup ( just mount and go )
Other types of gas sensors can be added ( e.g. CH4, CO )
Pump Option for suction of gas from another room ( e.g. breweries)
Different external antennas even with long cables to overcome transmission issues and seperate sensor mounting position from antenna mounting position
SubGHz or Sigfox or LoRaWAN Modules for CO2 Sensors